Flyers and Press Releases – Examples and Tips
All materials below were created or updated in 2013 and should be considered current, accurate, and ready for agents to use.
If you write a press release about home energy conservation or use the information below to create a press release, PLEASE let me know. E-mail me the article, date, audience, distributiion, etc. Thanks!
More press releases will be added to this site so check back later to see what is new. If there is a particular topic you are looking for and do not find it below, e-mail Laura_Langham@NCSU.edu and ask for a press release on your topic. I am happy to help.
Six Tips for Press Releases that Work
Marketing the E-Conservation Program
Workshop Flyers – Examples from Agents:
Workshop Announcement – Summer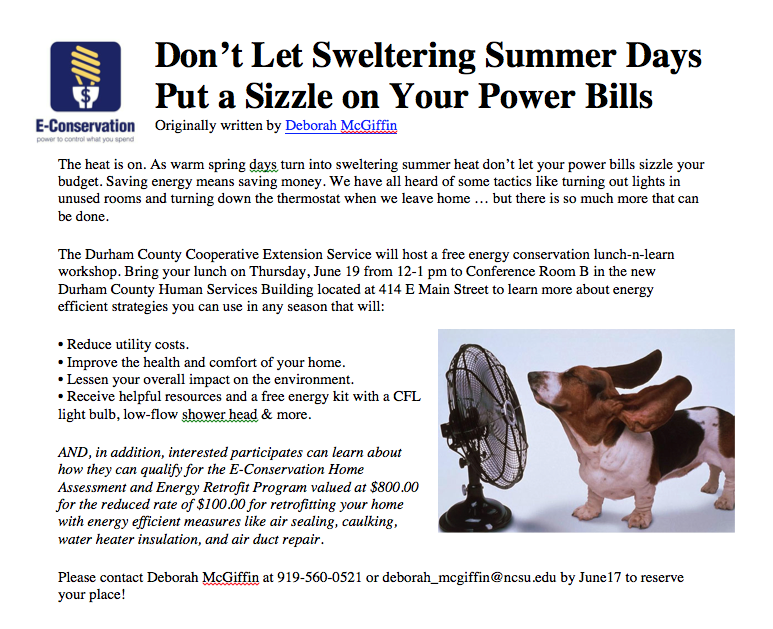 Workshop Announcement Article – Template for agents to use. Just fill in the yellow blocks with your workshop information and you are ready to go!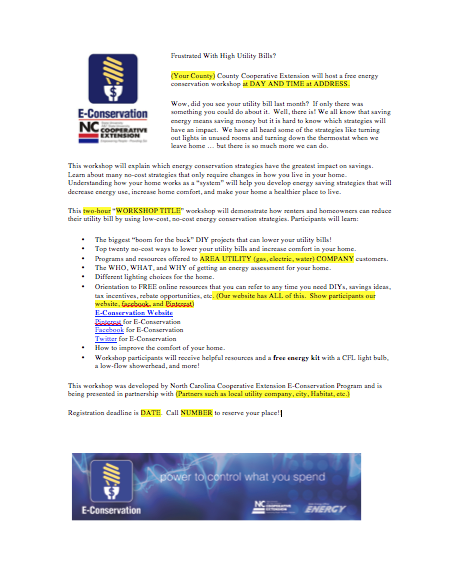 "This workshop will explain which energy conservation strategies have the greatest impact on savings. Learn about many no-cost strategies that only require changes in how you live in your home. Understanding how your home works as a "system" will help you develop energy saving strategies that will decrease energy use, increase home comfort, and make your home a healthier place to live."
From Rachel Harris Monteverdi, Franklin County: Save Energy Save Money Save the Planet 2012v2
And here it is in a document form so you can edit it and use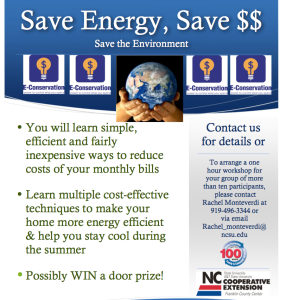 this in your county: Save Energy Save Money Save the Planet 2013 final
Was the information on this page helpful?