Volunteer Training
ECM Excel Spreadsheet that can help you identify MANY energy conservation measures by categories such as cost, season, difficulty level, etc.
Energy Pyramid – full document – (Courtesy of Montana Weatherization Training Center)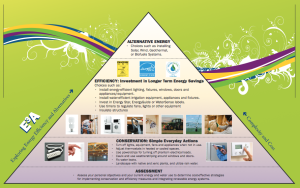 Procedures- Residential Walk-through Assessment and Retrofit
Online Resources – Great resources, broken down by topic area
Home Energy Webinar recording on  Basic Building Science Insights on Spray Foam, Unvented Attics, HVAC and Moisture can be found at:
https://connect.extension.iastate.edu/p67bedno7a1/?launcher=false&fcsContent=true&pbMode=normal
The stack effect – The best way to remedy the stack effect in most houses is by air-sealing the house to minimize gaps between indoor and outdoor spaces, including the attic hatch, window rough openings, and any recessed lights in the ceiling. Tightening the house reduces the air leakage that the stack effect causes while saving energy and improving comfort. Also watch the first minute of this video Attic Air-Sealing: Part 1, Evaluation 
>Sealing Air Leaks in your Home
How to build an air-tight attic hatch
Air Sealing:
Was the information on this page helpful?